Gallery Artist

Stop in . . . meet David Smith, resident artist, owner and licensed art teacher and of the Smith Studio and Gallery. You will usually find him working on a new sculpture or creating a sample for our upcoming Thursday night adult step-by-step art class or Saturday afternoon children's art class. As you stroll through the gallery you will discover whimsical paper Mache sculptures, paintings, drawings, hand-colored relief prints and paper Mache ornaments by David Smith along side original artwork by the regional artist we represent.

The Smith Studio and Gallery takes great pride in bringing accomplished Mid-west art fair artists to Geneseo, who otherwise might not be seen in this area. Representing a variety of extraordinary artists throughout the Mid-West . . . Quad Cities … Chicago . . . Peoria . . . Iowa City . . . Racine, Wisconsin and even Florida. Spanning a wide variety of mediums and venues: oil painting; watercolors; pastels; original handcrafted jewelry; hand-colored original relief prints; photography; pottery; carved wood holiday ornaments, trees and figures; assemblage and mix-media artwork . . .


Dennis Carlson from Rock Island, Illinois – Woodcarver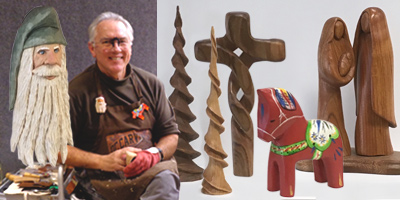 Dennis Carlson uses a wide variety of woods, his woodcarvings range from emphasizing the fine details of his subjects to the simple essence of the subject in its stylized form. He received national notice when his stylized tree design was featured in "Woodcarving Illustrated" and his work has gained in popularity. Dennis can frequently be seen carving at the QC Festival of Trees that is sponsored by Quad City Arts and at Smith Studio during the evening of the Annual Geneseo Christmas Walk and light parade. Dennis Carlson's Website

Sally Gierke from Bettendorf, Iowa – Potter & Muralist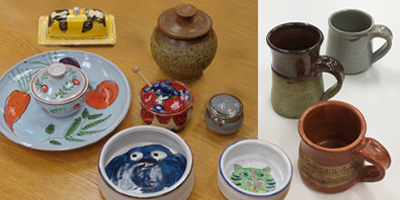 Sally Gierke is always in search of new ideas and sources of inspiration. Using various clays, such as earthenware, porcelain, and stoneware in conjunction a wide variety of pottery and glaze techniques to create extraordinary ceramics . . . the interaction between nature and her ceramic forms is at the heart of her craft. Sally Gierke's Website

Donald Gruber from Clinton, Illinois – Watercolors and Papercut Artwork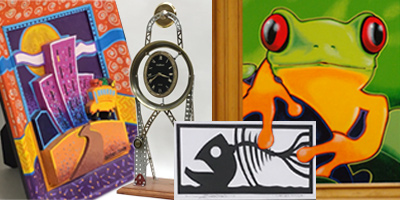 Don Gruber . . . Artist Extraordinaire . . . paintings, paper cuts, dimensional, decorative, and sculptural pieces, allegorical mythos full of personal symbolism. Donald Gruber explores many media in his work as he attempts to portray the humor, absurdities, and insecurities found among the chaos and confusion that defines modern life. His artwork frequently contains symbolic and retrospective images derived from my life experiences. "These images do not impose the restrictions of rules. I do them spontaneously and freely."

Pamela Hamilton from Geneva, Illinois – Pastel Drawings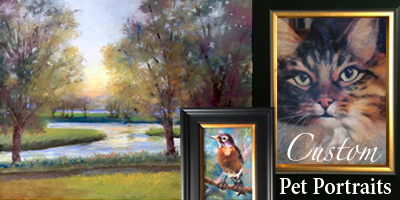 Pamela Hamilton draws inspiration from her love of nature, places to which she has traveled and her passion for portraiture . . . specializing in custom pet portraits. When choosing a subject she looks for the warm sunlight reflecting on skin or water. She finds light passing through petals that creates deep shadows, bright highlights and high contrast. Through her process Pamela is able to evoke a feeling of joy and happiness in her artwork. Pamela Hamilton's Website

Mary Hildebrand from Peoria, Illinois – Realistic Oil & Acrylic Painting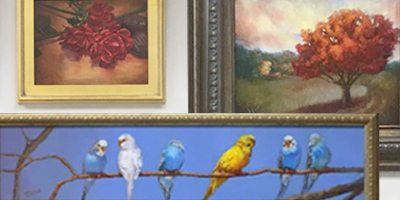 Mary Hildebrand endeavor to create paintings that are a reflection of what excites me. She describes her style as realism with some artistic license. She is a member of the Illinois Art League, National Oil and Acrylic Painters Society, and Oil Painters of America; and in 2013 was recognized as Illinois Artisan Artist. "When I look at God's creations very closely, it allows me to observe how miraculous they are." Mary Hildebrand's Website

Anne McGehee Morris, from Rock Island, Illinois – Colorful & Whimsical Jewelry & Glass Collage Wall Art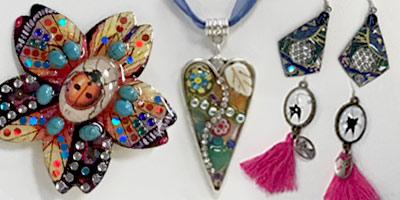 Anne McGehee Morris graduated from Augustana Collegewith an art degree in printmaking, however this turned out be impractical in the real world. She began her art career making jewelry for fun, and donated her first pieces to her church for a fundraiser. Her first art fair sale was at the North Carolina Museum of LIFE Festival. Since then, she has sold her work at a variety of art fairs and has won several awards for her work.

Tiana O'Konek from Cocoa Beach, Florida – Printmaking woodcut and linocut prints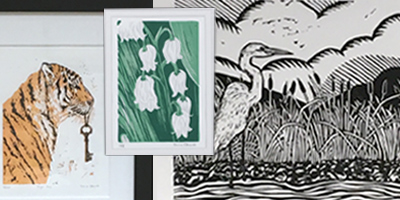 Tiana O'Konek, grew up in Bettendorf, and is a lawyer, activist, wife, mother, dog owner and artist specializing in woodcut and linocut prints. She draws inspiration from the world around her as well as from her interaction with chisels and wood. Tiana took printmaking courses at the University of Iowa while studying at their School of Law. She has applied her skill as a lawyer to help people and most recently she was the Director of Diversity and Inclusion for the Minnesota State Bar Association. Tiana now devotes her time to her young family and her art, including teaching art classes. She also runs her own art enterprise named "Tiger Key". Tiana O'Konek's Website

Jill A. Kramer from Oak Park, Illinois – Printmaking, hand-colored, limited edition, relief prints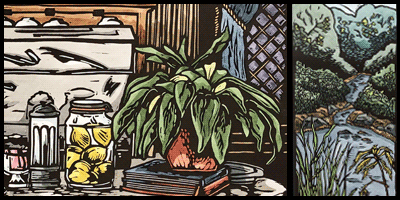 Jill A. Kramer is heavily influenced by print illustrations from the turn of the last century, her work gives a nod to a bygone era and honors the traditional craft of relief printmaking. Drawn to pattern, texture, mark-making and saturated use of color, Jill's work focuses on landscape and cityscape as an idealized sense of place and memory. She received her MA in Art Education from the School of the Art Institute of Chicago and her BFA in printmaking from Kent State University. Jill Kramer is the Executive Director of the Oak Park Art League, has been published in Chicago Bar Association Magazine and the Acadia National Park in Maine has used one of her releif prints to promote their annual 2009 Night Sky Festival. Jill A. Kramer's Website

Tom Phelan from Wheaton, Illinois – Photography "SHOT IN THE DARK"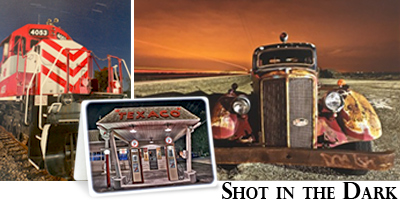 Tom Phelan prefers taking his pictures after the sun has gone down because of the unique quality of light that is available, particularly when the moon is present. This subdued lighting requires long exposures and "time" becomes a photographic effect. His goal as a photographer is to document the changing Midwestern landscape . . . primarily places and objects associated withe rural life in Illinois. Such as farmhouses, barns, tractors, cars and trains, which are on the verge of disappearing, both literally and figuratively, from our collective consciousness. "These are not the only objects I photograph, but they are generally the ones I find most interesting."

B. K. Pullen from Princeville, Illinois – Colored Pencils and Watercolors
. . . finding joy in exploring a variety art mediums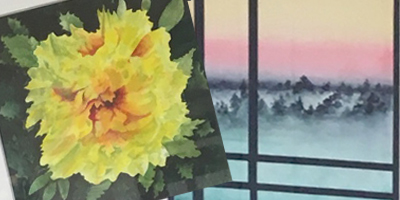 B. K. Pullen was inspired by her dad who encouraged her to express herself through her drawings. He bought her first oil painting set . . . changing her life! While anticipating retirement Mrs. Pullen wanted to reconnect with the art community. She found immense joy and satisfaction in the varied techniques offered through the media of colored pencil and continues to expand on her creative knowledge as she has developed many close relationships with other central Illinois artists.

Julie Purdum from Hanna City, Illinois – Mineral Watercolor Painting
. . . capturing nature's ever-changing beauty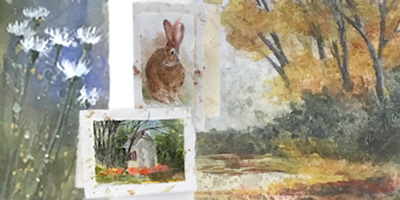 Julie Purdum is an indoor person and her husband loves the "Great Outdoors". Thanks to their forty plus years of getting lost together on country back roads Julie has became enthralled with nature's ever-changing beauty. Julie strives to capture these fleeting glimpses of nature in her watercolors. Julie has created the perfect gift . . . a hand painted vignette in the form of a card that you can personalize and later frame. Julia Purdum's Website

Jerri Reimann from Downers Grove, Illinois – Collage & Assemblage Artwork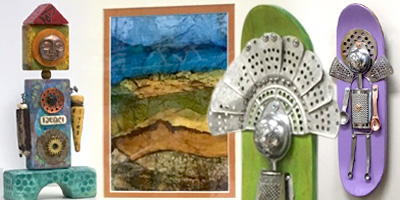 Jerri Reimann is intrigued by small things that make up a larger whole - tiles in a mosaic, pieces in a puzzle, bits of paper in a collage, clues that solve a mystery. Using text fragments, painted tissue or her own hand-carved blocks paper to create distinctive imagery in her collages. Jerri also works in assemblage using primarily found and reclaimed objects. Her artwork reveals her need for playfulness as well as an affinity for repurposing. Jerri Reimann's Website

Lori Lee Sampson from Peoria, Illinois – Drawings and Painting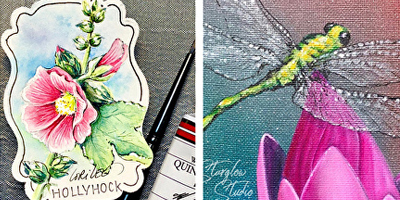 Lori Lee Sampson is a farm raised nature artist. Painting outside, en plein air, her urban sketching and nature journaling keeps her connected to the natural world. Her art is her small tribute to nature's significance.
Painting mostly in watercolor and acrylic, Lori Lee is influenced by her long graphic design background. She often combines line art with her paintings for a strong and crisp effect. Realistic undertones are blended with artistic acumen to reveal in-depth details that are often overlooked with only a casual glance at a subject. Her studio paintings are often larger and designed from her small outdoor studies, thousands of her own reference photos, or from still life set-ups of natural materials.
Lori Lee states, "Nature is not only changing by adapting to this hostile environment we've created, much of it is disappearing! We must treasure it while we still can!""Nature is beautiful, delicate and vital to our planet. It guides me through my journey of life and art." Lori Lee Sampson Website

Heather Shore from Rock Falls, Illinois – Mandala Collages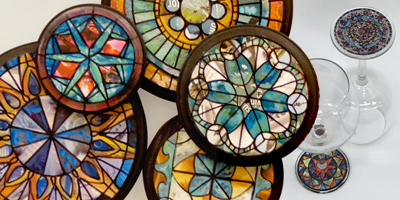 Heather Shore transforms images from magazine and paint into thought provoking Mandala collages, reminiscent of rose windows found in churches. She enjoys the possibilities that magazine images offer as they are taken out of context, such as pieces of flesh become lush ripples of color and texture . . . as you draw closer to her artwork you will discover that her artwork takes on more meaning as you identify familiar imagery within her intricate designs. Heather writes, "Creating mandalas gives me a sense of calm and wholeness that I have only felt while holding my children. I feel a sense of peace while creating these works that makes me a stronger, more balanced woman.
Heather Shore also reproduces her original Mandela artwork onto the base of wine glass, creating a unique affordable gift, which is available at Smith Studio and Gallery. Heather Shore's Website

Larry Stenzel from Roscoe, Illinois – Original Watercolor Painting
Larry Stenzel took his first watercolor painting class in 1980 after retiring as mechanical engineer,. His subject matter reflects his interests: old cars, old barns, old fishing lures, fish, wildlife, trees. He paints in a simple, realistic style with a limited palette . . . when he's not out fishing, that is.

Ken Swanson from Racine, Wisconsin – Limited Edition, Hand-Colored, Linoleum Block Prints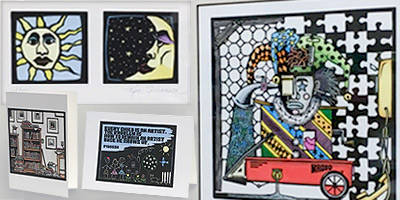 Ken Swanson's artwork concentrates on hand-colored relief prints carved from traditional linoleum. His compositions illustrate "snapshots" of images that define who he is. From a single object to a small scene, his simple and refined compositions help Ken remember images from his past so that he might better understand them. Viewers frequently share how the images help them to recall their own memories. Many of his original hand-colored prints have been reproduce as cards, which are available in our store.

Linda Thevenot from Naperville, Illinois – Exceptional Jewelry
. . . that reflects her knowledge of design and technique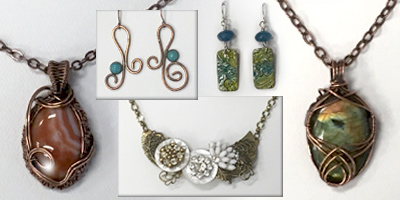 Linda Thevenot is an accomplished painter and has transfer her strong sense of composition and design into her jewelry. Linda is constantly experimenting with new methods and media in creating her unique/affordable pieces . . . using sterling silver, non-precious (hypo-allergenic) metals, semi precious gemstones, onyx, quarts and early 1900 antique buttons. With over a decade of experience, she is constantly experimenting with new methods and media in the creation of her unique pieces. Linda writes, "I am always asking myself 'What if?' as I explore various processes and combine techniques to create unique designs".

Ken Tiessen from Peoria, Illinois – Intimate, Rural Plein-Air Oil Paintings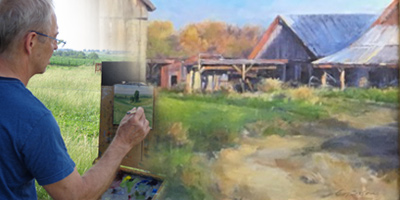 Ken Tiessen has spent his working career as an illustrator. Now in retirement he is focusing on his fine art career, working almost exclusively in oil and pastels, specializing in portraits and landscapes. His landscapes catch the ethereal qualities of light and shading and his portraits capture the character and vitality of the loved one or special moment. His blending of Realistic Imagery and Impressionist color is inspired by great artists such as John Singer Sargent, Joaquin Sorolla, Nicolai Fechin, and Winslow Homer. Ken Tiessen's Website

We are often asked . . . Why do people choose to acquire original artwork?
Because They Find Joy filling their home with original artwork they love or finding a unique one-of-a-kind gift to give a special friend or family member.
Smith Studio and Gallery
Upper Gallery Featured Artists
Geneseo High School
Junior Senior Student
Art Exhibit
On Display
April 4th – 29, 2023
Geneseo High School Art Instructors
Sarah DeGarmo and Kim Windish