As a Studio and Gallery
We believe the visual arts enrich everyone's life.
We are a gathering place for anyone who believes in the creative process, whether you gain inspiration by enjoying the creative expression of others or exploring your own creative path.
We are a Studio . . . offering a wide range of scheduled and private art classes for children, families and adults. At Smith Studio and Gallery you only need 2 people to schedule your own private art class or party . . . you pick the day, time and art activity. Our goal is for everyone to have a positive experience. We begin by teaching you about the art medium you have chosen and encourage you to have fun learning more about the creative process. In the end our participants are amazed at what they have accomplished and leave with a smile on their face . . . a keepsake . . . and fond memories of time spent with friends and family.
We are a Gallery . . . featuring original artwork by David Smith, owner/resident artist, and represent over 20 extraordinary 2-D and 3-D regional artists located throughout Illinois, Iowa and Wisconsin. We continually are on the lookout for current, innovative artists, who may not normally show in the area, to invite into our gallery for two month solo exhibition in our upper gallery.

Check out our guest artist Erik Ohrn on exhibit February1st thru March 31, 2018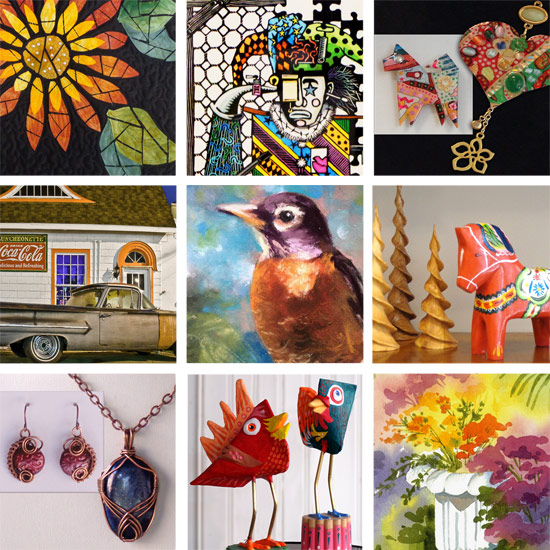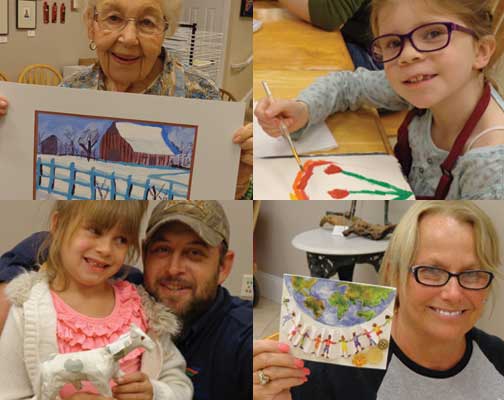 Welcome To Smith Studio And Gallery
Have fun exploring your own creative side . . . while being surrounded by original artwork by David Smith and the extraordinary artist we represent.
David Smith, owner and llinois licensed art teacher, teaches all the scheduled and private art class at Smith Studio and Gallery. For over 40 years David has taught at all levels, elementary though college. He has held workshops in India, Singapore and Australia for Very Special Arts an organization to help people with disabilities. David was recognized by the National Art Education Association as the 1994 "Illinois Art Educator of the Year", the Illinois Art Education Association as the 2011 "Elementary Art Educator" and also in 2014 he was recognized as an IAEA Distinguished Member.
When you are downtown bring your children in for a short impromptu art outing. We always have paper, marker and crayons out for anyone who wants to have fun drawing, or you can relax in our upper gallery . . . enjoy the artwork on the walls, peruse through our books or play a game. During business hours Smith Studio and Gallery invites non-profit organizations to use our upper gallery area for meetings at no charge.