Saturday Afternoon Children's Art Classes
Smith Studio's Saturday Afternoon Children's Art Classes are usually the 2nd and 4th Saturday of the month.
2023 Fall/Winter Saturday Art Class Schedule
Grades 1st – 6th • 1:00 – 3:00
Cost: $20 / child
All materials are included in the cost.

Smith Studio partners with the Geneseo Park District to bring you quality art classes for children. You can register for Children's Saturday Art Classes in person at the Smith Studio or register in person or line at the Geneseo Park District Community Center. www.geneseoparkdistrict.org. All materials are included in the cost. Payment is due when you register.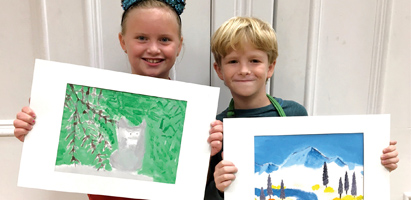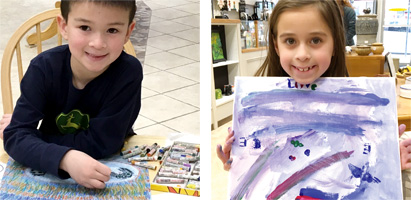 Saturday, September 16th
Watercolor: Wet-On-Wet
Watercolor can be the most difficult painting media to learn; and there are many ways to use watercolor. On this Saturday we will focus on "Wet-On-Wet" painting techniques so that the students can explore the ethereal qualities that they can achieve. Then our skills will center on a final matted image that will demonstrate the immediate satisfaction that can be achieved in this fluid medium.
GRADES 1 – 6 TIME 1:00 – 3:00 COST $20/child Geneseo Park Dist # 23023-11

Saturday, September 30th
Paint the Frame
It is unusual, but not uncommon, for an artist to paint a frame that matches a painting. Examples of this can be found in the art galleries of Geneseo. On this Saturday, students will have the opportunity to paint a creative image on a canvas board; but then a frame will be added and participants will be directed on the different ways in which a painted frame will support their original art concept.
GRADES 1 – 6 TIME 1:00 – 3:00 COST $20/child Geneseo Park Dist # 23024-11

Saturday, October 14th
Halloween Mask
At the Smith Studio we always have special fun at Halloween time. In this seasonal class our participants will discuss the unique qualities of an "Art Mask". Where do they come from? Where are they made? THEN, each child will create their own special art mask to wear and/or hang on the wall.
GRADES 1 – 6 TIME 1:00 – 3:00 COST $20/child Geneseo Park Dist # 23025-11

Saturday, November 11th
Oil Pastel - Pointillism
Oil Pastel looks a lot like crayon, but there are ways to use oil pastel that give the artist a unique result that cannot be achieved in any other way. On this special Saturday we will create an exceptional image in a "Pointillist" style. This method of drawing allows for a different way of blending colors, so color-mixing formulas will be examined..
GRADES 1 – 6 TIME 1:00 – 3:00 COST $20/child Geneseo Park Dist # 33023-11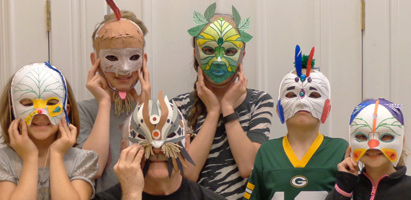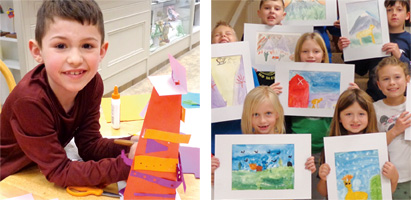 The week of Thanksgiving there is NO SCHOOL in Geneseo!
Check out Smith Studio and Gallery
Thanksgiving Break 2-day Art Camp
Monday and Tuesday November 20 - 21, 2023
Grades 1st – 6th • 9:00 am – 4:30 pm
Cost: $150 /child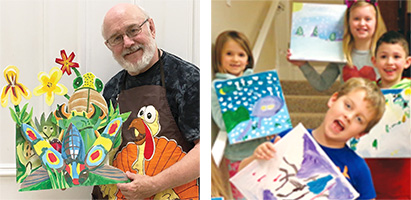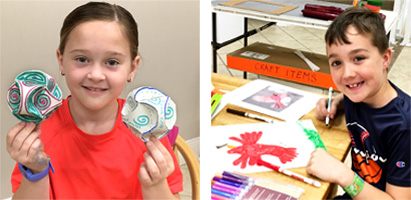 When you visit Smith Studio and Gallery you will realize teaching art to others is a very important part of our business plan. We have dedicated a large portion of our main floor gallery to setting up a classroom complete with large hard wood tables, good lighting, kid/adult height sinks and a public restroom on the main floor.
David Smith, owner and Illinois licensed art teacher, teaches all the scheduled and private art class at Smith Studio and Gallery. For over 37 years David has taught in both private and public schools at all levels; elementary though college. He has been recognized by the National Art Education Association as the "1994 Illinois Art Educator of the Year"; the Illinois Art Education Association as the "2011 Elementary Art Educator of the Year", and in 2014 he was recognized as an IAEA Distinguished Member. On occasion you can find David teaching art workshops at the Geneseo Public Library and Geneseo Child Care; and Smith Studio is the official children's art classes for the Geneseo Park District. David Smith did not retire from teaching art . . . he moved it into the Smith Studio and Gallery.

Can't make our scheduled art classes . . . consider planning your own private art class or art party that best fits your schedule and group's interests.
Plan a Private Art Class with Family and/or Friends
Plan a Private "ART PARTY" with refreshments, great for Girls Night Out or Office Holiday Party
Children's Art Birthday Party, you can choose from a variety of age-appropriate art activities. Parents bring the cake and drinks. We set up party area, run art activity, and clean up the mess.
Girl Scout Troop Art Badge, art materials and instruction are provided to complete the various art badge requirements.