Thanksgiving Art Camp Grades 1 – 6
MONDAY & TUESDAY
November 20 – 21, 2023
Thanksgiving Break Art Camp
Grades 1st – 6th • 9:00 am – 4:30 pm
Cost: $150 /child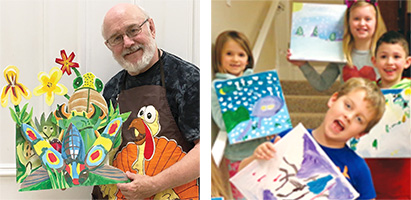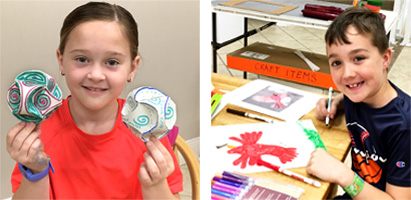 The week of Thanksgiving there is NO SCHOOL in Geneseo!
Smith Studio and Gallery is offering a creative opportunity for your child to be out of the house on Monday and Tuesday. Because our art camp span 2-days, we can offer more in-depth art projects that are started on the first day and completed on the second day.

Participants bring a lunch and enjoy 2-days of challenging, unusual and exciting art projects, both inside and outside as weather permits. We supply a morning and afternoon pre-packaged snack. We have extended hours for those who need it, at no additional cost. Maximum, 8 children

Monday, November 20 – During this two-day art camp we will direct our artistic energies towards building a "Respect Mother Nature" sculpture. Our masterful creations will be built from foam core, and painted. Our sculpture's relationship to nature will become apparent as they develop and become more complex. Then a story will grow from our artwork that will honor Mother Nature.

Tuesday November 20 – We will continue to develop our "Mother Nature" sculptures. This includes developing a written story of "Respect Mother Nature" from our art endeavors. A special "Turkey Puppet" is also planned as we look at the detail that can be added to an art piece as it is brought to a conclusion. Games and 2-dimensional art will also be a part of our two-days of exciting creativity.

A morning and afternoon snack is provided. A short movie about a major artist is shown after lunch. There are additional 2-D and 3-D art projects besides the major project.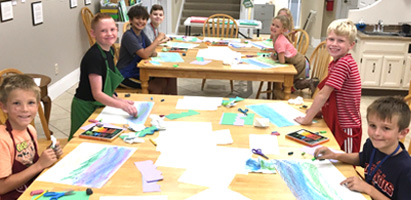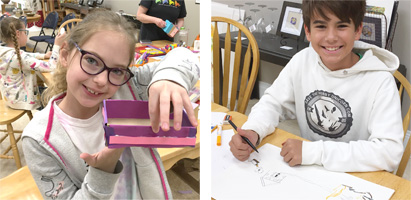 Sign up for a fun two days of original art activities and friendship!
Smith Studio and Gallery Spring Break 2-Day Art Camp
March 20 – 21 | M-TH (2 day camp) • Grades 1st – 6th • 9:00 am – 4:30 pm
Cost: $150 /child Geneseo Part Dist. # 23029-11


Smith Studio partners with the Geneseo Park District to bring you quality art classes for children. You can register for Children's Saturday Art Classes in person at the Smith Studio or register in person or line at the Geneseo Park District Community Center. www.geneseoparkdistrict.org. Payment is due when you register.

THANKSGIVING BREAK
2-Day Art Camp Agenda
Monday and Tuesday
November 20 – 21, 2023
9:00 am – 4:30 pm
Grades: 1st – 6th
Cost: $150 /child
Maximum 8 children
We have extended hours at no additional cost. Children can be dropped off as early as 8:30 and picked up as late as 5:00.
9:00 – 12:00
Morning Art Activity
Noon – 1:00 Lunch
Children bring their lunch and drink that we store in our refrigerator. We supply daily snacks. Please inform us of any food allergies or concerns.
1:00 – 3:30
Afternoon Art Activity
4:00 – 4:30 Free Time
During "Free Time" students have the opportunity to do additional work on existing art projects, try something new or play games together.

For more information or to register for Thanksgiving Break Art Camp stop in at Smith Studio and Gallery or go to the Geneseo Park District website
www.geneseoparkdistrict.org.