Thursday Cork & Canvas Art Class
Cork & Canvas Adult Art Class is usually the 1st and 3rd Thursday of the month.
2023 APRIL Adult Art Class Schedule
7:00 – 9:00 p.m.
$20/person
You must be over 21 to attend.
All materials and refreshments are included in the cost.
Payment is due the night of the class.
Space is limited, please call 309-945-5428 to reserve your spot at our next Cork & Canvas Art Class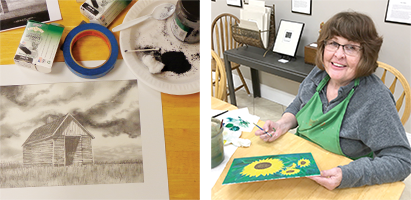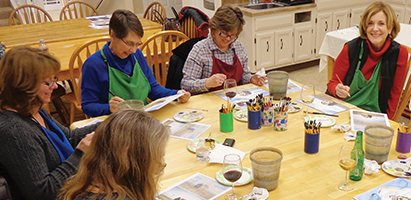 We invite both men and women to join us for an evening of creative fun . . . as you experiment with a wide variety of art media, while socially interacting with others. We even supply snacks to make the evening more enjoyable.
Thursday, April 6th
Drawing with Oil Pastel
Step-by-Step drawing of a late winter storm on the farm.
We will bring out the "Impressionist" in you, as we develop this colorful image using nothing but dots. Like the famous artist Georges Seurat, you will see how the rules of pointillism painting bring together colors in a fresh and vibrant manner. This has always been one of the art events most loved by our participants.
COST $20 /adult • 7:00 – 9:00 pm • You must be over 21 to attend.

Thursday, April 20th
Watercolors
Step-by-Step painting of a field of wildflowers.
This evening we will be highlighting the differences between painting with translucent watercolors and opaque paints. Learning about brush control, the importance of "white space" and keeping your colors bright and translucent, as you see your spring flower immerge. At the end of the evening joy and laughter fills the room, as everyone contemplates the various interpretations of the same image.
COST $20 /adult • 7:00 – 9:00 pm • You must be over 21 to attend.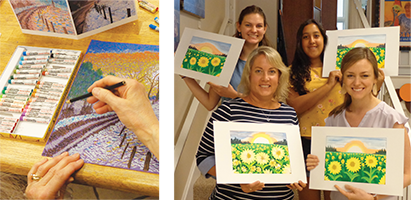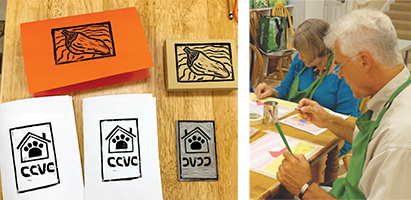 There are no scheduled art classes in May.
The Summer Thursday Night Schedule will be out Mid-April.
Check out are wide range of scheduled and private art classes for all ages.
Thurday Night
OPEN STUDIO
For Teens and Adults
Usually the 2nd and 4th Saturday of the month.
7:00 – 9:00 pm
Cost $15 / person
All materials are included in the cost.
Choose from a wide rangeof of
art mediums and venues
you wish to explore.
2023 Winter/Spring Art Class Schedule
TH – January 26th
TH – February 9th and 23rd
TH – March 9th
TH – April 13th
No Art Classes in May
We encourage you to call us at 309-945-5428 or go to facebook @ Smith Studio and Gallery to confirm Thursday Open Studio dates, because occasionally we need to alter/cancel the art class.
Saturday Afternoon
Children's Art Class
Usually the 2nd and 4th Saturday of the month.
For Grades 1st – 6th
1:00 – 3:00 pm
$20 / child
All materials are included in the cost.
Can't make our scheduled art classes . . . consider planning your own private art class or art party that best fits your schedule and group's interests.
Plan a Private Art Class with Family and/or Friends
Plan a Private "ART PARTY" with refreshments, great for Girls Night Out or Office Holiday Party
Children's Art Birthday Party, you can choose from a variety of age-appropriate art activities. Parents bring the cake and drinks. We set up party area, run art activity, and clean up the mess.
Girl Scout Troop Art Badge, art materials and instruction are provided to complete the various art badge requirements.