Plan an ART PARTY with refreshments
Schedule Your Own
Private "ART PARTY"
We will supply a variety of snacks to make your evening more enjoyable.
You need a minimum of 6 people to schedule a private "ART PARTY"
Cost: $25 / person
All materials, beverages and snacks are included in the cost.

Listed are a sampling of the kind of snacks we supply: cheese and crackers, taco dip and chips, cookies, vegatable/fruit plate, nuts and/or candy. All beverages are supplied gratis (soda, fruit flavored drink boxes, bottled water, coffee). Note: If everyone in your group is over 21, we can supply a little adult beverage.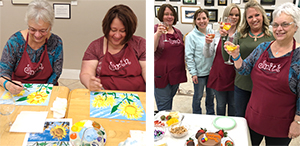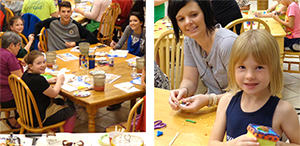 Have fun "MAKING ART" and creating memories!
Families & Friends Celebrating a Special Event
Girl's Night Out • Step-by-Step Painting Class
Bridal or Baby Shower
Club, Office or Church Holiday Party

You Pick the Day and Time . . . You are not restricted to our store hours, when scheduling an art class or party. We have found that Sunday is a popular day for scheduling getting everyone together.

You Pick the Art Activity . . . Choose from a variety of art mediums and 2-D and 3-D art venues. We are happy to assist you in choosing the best art activity for your group based on age, number of participants, and interests. Please feel free to come in with your own ideas and we will try to accommodate you.

List of Art Materials and Art Activities to Choose From
If the art activity is a Step-by-Step drawing or painting, we can create a picture for your group.

How schedule a Private "Art Party?
Just come in and fill out our PRIVATE GROUP ART CLASS / Party Contract. We require a non-refundable deposit of $25 to reserve your date and time.
NOTE: You only pay for the people who participate in the art class, not for the number on the reservation, however we ask that you keep us inform if the number drastically changes.
We don't charge a fee if you need to reschedule the day and/or time of your art class.
Private Art Class/Art Party Venues
Plan a Private Art Class with Family and/or Friends
Plan a Private "ART PARTY" with refreshments, great for Girls Night Out or Office Holiday Party
Children's Art Birthday Party, you can choose from a variety of age-appropriate art activities. Parents bring the cake and drinks. We set up party area, run art activity, and clean up the mess.
Girl Scout Troop Art Badge, art materials and instruction are provided to complete the various art badge requirements.

Information when planning a private art class/party.
How far in advance do you need to schedule a private art class?
Our shortest lead time was 1 hour, but we recommend you give us more time to ensure we can accommodate your request.
• 1st grade is the minimum age when scheduling a private birthday party or art class just for children. Younger children can participate in a family group art class, however the parents are responsible for the child's actions.
• We are recommending a maximum group size of 8 – 10 participants, however we can discuss accommodating a larger group.
• We ask that you pick only one art activity for your group to do, however we encourage you to come in with your own ideas and we will try to accommodate you.
• You are not restricted to our store hours, when scheduling an art class. Most of our private art classes are run after store hours and on days we are closed.
• All art materials are included in the cost of all our scheduled and private art classes.
• We reserve 2 hours for a private art class/party, however we don't throw anyone out or charge extra if the class runs a little long.
• Art Classes are held in the store classroom area at the back of the main gallery level. Tables are set up for the number of people coming and the art activity materials are set out before you come. We ask that you keep us inform of any major changes in the number of people attending, so we can adjust the class room space before you come.
• During store hours the classroom space can be sectioned off, however gallery customers will still have limited access to view the artwork on the wall, the public bathroom and to pass through the area to get to the upper gallery and entrance/exit doors.
• There is convenient parking in the front and back of our store, however the back door has steps to get into the building. In the evening, we suggest you park in the lot behind our building, when the restaurants are open.
• The State Street front store entrance, classroom space and bathroom are on the main floor and are wheelchair accessible.

Please remember that Smith Studio and Gallery is not only a class room but a retail store, the class room area is surrounded by our artist's artwork. We ask that children be well mannered, careful and supervised by you. Parents and/or supervising adults are ultimately responsible their guest attending the art class or art party. Every effort will be made to keep store items "safe"; but there is a common understanding of "If You Break It, You Bought It".